" This was one of the fastest downwind sleigh rides I've enjoyed for a long time - big grins were the order of the day."
Rupert Holmes, Yachts and Yachting Magazine.
BM550 is a new 5.5m dayboat (or large dinghy) design for 2013. The design is a direct derivative of my Hazardous Zero-9 Merlin Rocket design, and with 19 sq m in main and jib, plus a similarly sized spinnaker, has sufficient horsepower to provide a superb sailing experience, but with the reassurance that the 55kg lead ballast in the centreboard will keep the boat the right way up.
The prototype boat is of cedar strip/plywood/epoxy glass composite construction. This design was being marketed and manufactured by BLUEMOTION YACHTS (Foundry Reach Yacht Sales and Services), who were producing the design in FRP. However, the owner has now retired and the moulds are for sale. The prototype was exhibited at the RYA Dinghy Show at Alexandra Palace, London, on 2-3 March 2013. BlueMotion was shortlisted for the Concours d'Elegance prize.
The July 2013 edition of Yachts and Yachting magazine featured a test of the BM550. The boat achieved 9 out of 10 in all test categories. Download a copy of the Y&Y Test Report.
Plans for amateur builders are available from the designer. As of August 2017, 7 sets of plans have been sold worldwide. Go to PURCHASE PLANS of BM550.
Principal Dimensions:
Length over all
5.50 metres
Length on waterline
5.50 metres
Beam
2.20 metres
Racing weight
(including rudder, centreboard, rig)
290kg
Sail area
19 sq m plus 19 sq m spinnaker
Portsmouth Number
approximately 995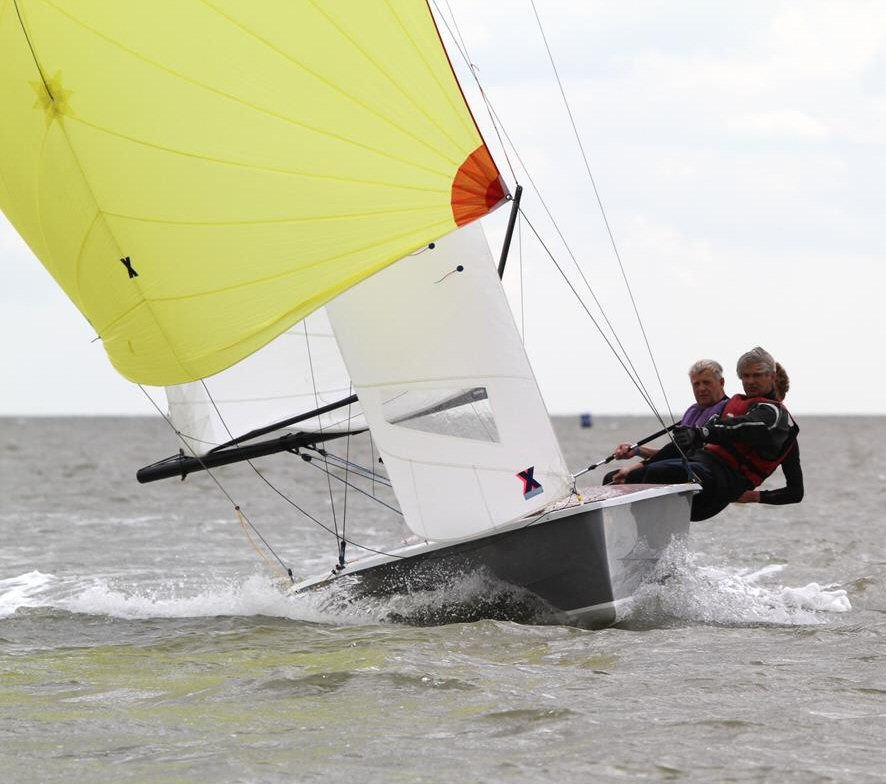 Photo: Fiona Brown Communications and Event Management
See YouTube videos of BM550 sailing on her launch day:
BlueMotion sailing at Alton Water SC, February 2013.
BlueMotion - view from the cockpit
See YouTube video of BM550 being helmed by Michael McNamara
BlueMotion - helmed by Michael McNamara
See YouTube video of BLUEMOTION 550 sailing during the test by Yachts and Yachting Magazine on 13 May 2013. The test results were published in the JULY 2013 edition.
BlueMotion - Yachts and Yachting boat test
See YouTube video of BLUEMOTION 550 undergoing a self-righting test at Alton Water.
BlueMotion - self-righting test