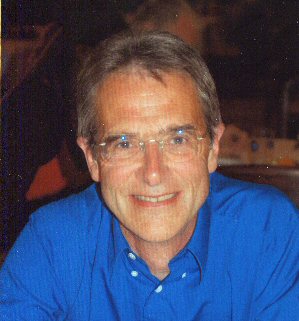 Profile of the designer - Keith Callaghan AMRINA
My interest in sailing, boat design and boatbuilding started in about 1960 when I was 14. My family lived near Robert Tucker in Enfield, North London, and my father got hold of the first set of plans for his 21ft Ballerina Mk2 sloop. Like many of Tucker's designs, it was a hard chine bilge keeler, and was sold as suitable for amateur construction in plywood. It took my father, my brother and I two years to build the hull of "Alicia". Due to moving house, the boat was actually completed at my father's cousin's boatyard in Leigh, Essex. Then we learned to sail in her at the Up River Yacht Club, Hullbridge, Essex.
The URYC had a growing fleet of Merlin Rockets, and I started crewing occasionally in these dinghies. When "Alicia" was sold at the end of 1964, I turned to thinking of designing and building a Merlin. And so it happened that by the early 1970s I had designed many Merlin Rockets (14ft UK 2 person national development class). About 110 Merlins were built to my designs between 1968 and 1977. They were quite successful, winning the Silver Tiller series in 1971, 1973 and 1974, and being placed in the first 6 at the National Championships 7 times between 1972 and 1976. During this period I also designed the Harrier, a GRP single-hander (70 of which were built), and a National 12 and International 14 or two.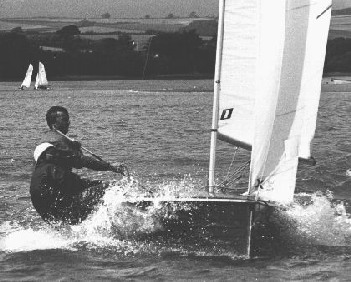 I produced my last "20th century" Merlin Rocket design in 1977 (HAZARD, in the photo on the left), and did not take up boat design again until BLUE LIGHTNING in 1994. However, I did not give up sailing completely during the intervening period, and for many years enjoyed sailing on the East Coast and elsewhere in LIVELY, a Yachting World Rambler, built in 1954. LIVELY is a 17ft LOA 2 berth centreboard cruiser, of double chine plywood construction, designed by Jack Holt and purchased as a half-decker. I added a small cabin, retaining an 8ft cockpit, and completely re-designed the rig.
My fun with LIVELY as a trailable (but very small) weekender sailboat got me thinking about designing a larger, faster and more easily maintained boat. For years I was too busy to put my ideas into practice, but in 1994 I retired from my career in I.T. on terms which made it feasible for me to finance the building of my long-planned trailer-sailer.
I purchased the NAUTILUS suite of yacht design software from the US, and commenced the design in August 1994. Building started in October and BLUE LIGHTNING was launched (with incomplete interior) in August 1995.
In the last 20 years, my sports trailer-sailer and dinghy designs have been sold to owners in several continents. I am designing Merlin Rockets again, and have 3 new singlehanders Heatwave , HAZE 4000 and HADRON and two dayboats - Highlight and BlueMotion-550 to add to my design portfolio. More recently I have produced 3 light, fast, but offshore-capable yacht designs - YY27, BlueStorm 900 and BlueStorm 800.
Plans for my high performance dinghies and trailer-sailers have been sold to owners in France, Poland, Germany, Holland, Italy, Canada, UK, former Yugoslavia, Brazil, USA, South Africa, South Korea, Hong Kong, New Zealand, and Australia.
In 2016 I set up a company with Simon Hipkin to produce and market a new carbon composite singlehander - the Hadron H2.
In 2017 I was elected as an associate member of the Royal Institution of Naval Architects.