Simon Hipkin's Hazardous Merlin Rocket #3750 "No Pasaran!" was exhibited on the Merlin Rocket Owners Association stand at the RYA Dinghy Show, London, 1-2 March 2014.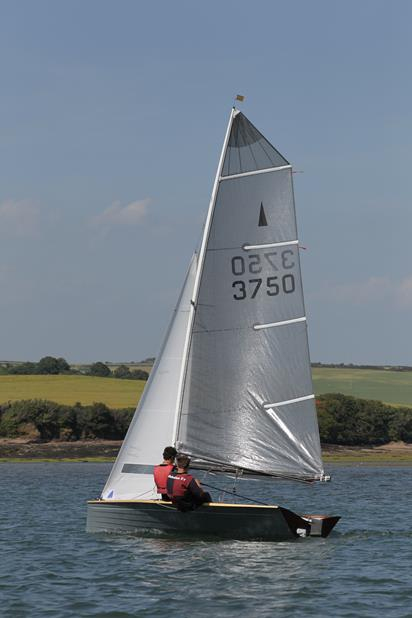 Photo copyright Peter Newton Photography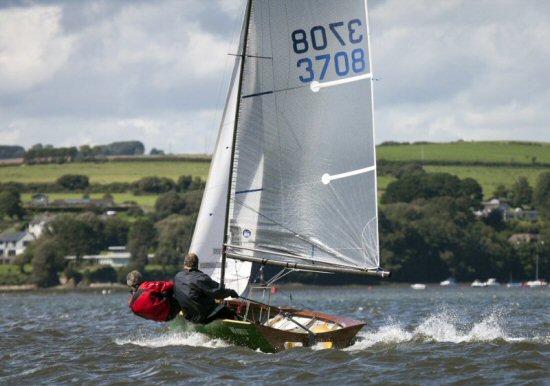 Photo copyright Demelza Mitchell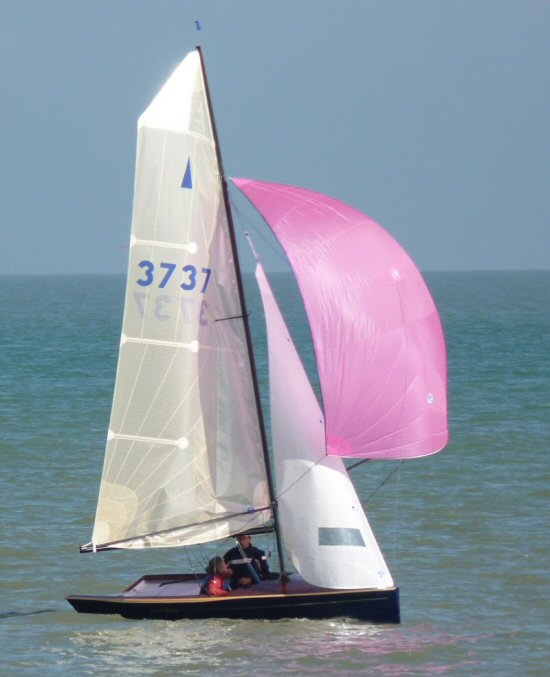 "Tradition, pride, craftsmanship, speed and a really sexy design - I love it!"
- Julio Arana, Merlin Rocket builder, Austin, Texas, USA.
"REAL MAGIC",the book which charts the 70 year history of the Merlin Rocket Class, is now on sale.
After 70 years, the UK Merlin Rocket dinghy class continues to develop in design terms, although not at the frenetic pace achieved in the period 1965 to 1985. My new HAZARDOUS series are the first really new designs in the 21st century*, and also probably the first Merlin Rockets to be designed with the aid of yacht design and CAD software. They are fully competitive with the current standard FRP production boat. Jasper Barnham and Graham Sexton sailed WICKED to 5th place in the 2013 Inland Championships against very hot competition. They also had a run of very good Silver Tiller results.
I did a lot of research (via books and the internet) to appraise myself of the latest design thinking, and experimented with a radical new Merlin shape, but I could not produce a "Bethwaite skiff" type of hull within the constraints of the Merlin class rules, and which did not have excessive wetted area. So I went back to the Hexagon/Hysteria/Hazard line and produced a concept which has the same fine entry, but even flatter garboards forward, and a radically flatter planing run, to take advantage of the power developed by the sophisticated modern rigs. The first 2 new designs in this series, the Hazardous 140 and 170 designs, differed only in their weight carrying capability - the 140 was designed for a lighter crew (about 140kg, in fact), and had less curve in the aft run than the 170. Wetted surface area compared favourably with my earlier designs (they were good light weather performers). In a planing breeze I knew these boats would fly.
* There are now two more new MR designs
The GENII by Jon Turner. The two boats that Jon has produced have many radical innovations and have shown great promise in the skilled hands of Jon and crew Richard Parsloe.
The second new design is "Deadline" by Jo Richards. The first boat to this design appeared in 2012 and finished 6th at the national championships, sailed by ace team Simon Blake and Alex Jackson.
ALSO I overlooked Miles James, who in 2004 designed and built "Wuthering Heights" (MR3646), which is Miles's third MR design and trumps my claim for the Hazardous to be the first 21st century design.
Plans for the first Hazardous 170 were sold to the USA, and the first Hazardous 140 went to France. On 16 June 2005 John Keeling launched his Merlin USA01, named 'Forty-two'. To view some photographs he has sent me Click here.
In November 2008 Laurie Smart was commissioned by Rob Holroyd to build a Hazardous 170 (with a few mods, and thus renamed Hazardous Zero-9. the same mods were done to the 140, which was renamed Hazardous Zero-9 LITE).
Rob's boat was exhibited at the RYA Dinghy Show at Alexandra Palace on 7th-8th March 2009.
The new Hazardous design - Hazardous Zero-9 is designed to carry 7-10kg more weight that the Canterbury Tales, and with the centre of buoyancy set further aft, she will favour heavier helmsmen with lighter crews - often a typical Merlin crew combination. Wetted surface is about 1% less than Canterbury Tales, and hull draft is 16mm less. The waterline is finer to amidships, and a little wider towards the transom. A version for lighter helms, with less rocker in the aft run and more freeboard and beam aft of midships is also available. This design is called HAZARDOUS ZERO-9 LITE.
Rob Holroyd's H09 "WICKED" was allocated MR sail number 3708. Registration of this Merlin means that I am the designer with (by far!) the longest career in the Merlin Rocket class - 43 years (1966 to 2009) - and counting! By comparison, Ian Proctor's designs spanned only 21 years, but they spanned a larger sail number range (2417 boats versus 1753). Phil Morrison's first design appeared in 1969, and his latest (hopefully not his last) in 1997. Ian Holt, the designer of nearly all the Merlins built in recent years, produced his first creation only 24 years ago.
And with "WICKED" Laurie Smart's career as a Merlin builder becomes the longest in the 63 year history of the Class - 37 years. I know I am biased, but in my opinion Laurie has produced a beautiful boat which is up there at the pinnacle of wooden dinghy craftsmanship. How many more wood Merlins like "WICKED" will be built, I wonder?
In October 2012 Simon Cory of CORY YACHTS launched MR3737 "Mini Cool Blue". This superbly built and strikingly elegant Merlin Rocket has a foam planked FRP hull with varnished wood decks. MCB is to my Hazardous Zero-9 Lite design. Simon plans to offer a limited number of boats for sale. The boat was exhibited on the Merlin Rocket Owners Association stand at the RYA Dinghy Show at Alexandra Palace, London, on 2-3 March 2013, where she was shortlisted for the Concours d'Elegance prize. See the bottom of this page for more photos.
Julio Arana, of Austin, Texas, is building a HAZARDOUS Merlin Rocket. He is writing a BLOG, describing the progress of his project. Julio's blog may well become the standard work on how to build a Merlin Rocket.
The latest H09L to get allocated a sail number is Simon Hipkin's MR3750 "No Pasaran!". This boat was launched at Salcombe Week 2013.
I have written a sailing autobiography in words and pictures, using Photobox. You can see many more details of my 21st century Merlin Rocket designs in volume 3 of this book. View RIDING THE WAVES, Volume 3. Merlin Rockets feature from page 24 onwards. The book is free to view!
If you have ever wondered what a smooth skin Merlin Rocket would look like, then have a look at this. Plans for a Hazardous Zero-9, modified for cedar strip/composite construction, have been sold to a New Zealander. Building is nearly complete. See photos of the build progress.
If you want to buy a set of plans for either of my current Merlin Rocket designs, PURCHASE PLANS HERE
NEW FOR 2012: Library of Technical drawings. Find out what all those strings do, and more!
"Merlin Rocket" is a registered trade mark of the Royal Yachting Association. Merlin Rockets are not allowed to race in the UK as a Merlin Rocket unless the boat has been measured in accordance with the Class Rules and a certificate obtained from the RYA.
July 2009:
A Hazardous Zero-9 is being started in ITALY.
A version of the Zero-9 for lighter crews (unimaginatvely named Zero-9 LITE) has now been produced. The intended crew weight of this design matches that for the Canterbury Tales, but favours a helmsman who is a little heavier than the crew. A set of plans has already been sold to someone who intends to sail his boat on the Wannsee lakes in Berlin, GERMANY.
September 2009:
As the sailing season comes to a close, "WICKED" has not yet really been tested in competition. She appeared at Salcombe Week in July and with an inexperienced young crew beat about 20 of the standard Canterbury Tales designs (though more finished ahead of her!). Since then she has not been sailed due to Rob's other commitments. So for the Hazardous Zero-9 it is still "Case Unproven".
August 2010:
"WICKED" has been sailed in Salcombe Week and The National Championships at Penzance. At Salcombe, Laurie Smart and Jill Blake sailed the boat. Their best result was a second place. In August, Steve Dunn and Ruth Johnson borrowed the boat for the Nationals. Unfortunately Ruth was injured after race 3, and Steve had to find other crews for the remaining races. He finished 18th over all, ahead of many very experienced Merlin sailors.
March 2011:
"WICKED" will have a few more outings this year - with the designer as crew. I will be crewing for Rob Holroyd in the Inland Championships at Draycote and at Salcombe Week, and then in August it's the Nationals at Hayling Island, with Laurie Smart helming.
And a Hazardous Zero-9 Lite is building at a boatyard in Sandwich, Kent. The boat hull is already off the mould. It is built in 8mm Corecell foam, and completion is due for some time in 2012.
June 2011:
I crewed for Rob Holroyd at the Inland Championships in "WICKED". We started well enough in the first race, pulling up to 2nd at the first mark. Up went the spinnaker - the first time I have handled a MR spinnaker in anger for 33 years! To our great joy, we were still second at the gybe mark - but we then capsized. The rest doesn't bear recounting, but we had our moment of glory!
August 2011: Merlin Rocket National Championships
Laurie Smart and I sailed "WICKED" in the Championships at Hayling Island with some initial success, but a Black Flag disqualification and then a broken mast on the Thursday meant that we could not put a series of results together. If only I were 40 years younger!
January 2012:
Much closer to home (just 20 miles away from me), a boatbuilder, Simon Hipkin, has purchased a set of H09L plans and will build a boat in wood to be completed in 2013. So "WICKED" will not be the last all-wood Merlin Rocket built.
Autumn 2012:
Rob Holroyd and I sailed WICKED in Salcombe Merlin Week in July. Excellent sailing - just wish we could have got nearer the start line at the gun!
Tom Jeffcoate, a helmsman with several national titles and a European title to his credit, sailed WICKED at the Inland Championships, finishing 11th - not bad for his first outing in the boat. More recently he came 3rd at the Felucca Trophy Open Meeting at Hollingworth Lake.
Simon Cory of CORY YACHTS has launched his foam planked/wood decked HAZARDOUS ZERO-9 LITE. Named "Mini Cool Blue", MR3737 is superbly build and finished. If she goes as well as she looks, Simon has a winner! See bottom of this page for photos.
Winter 2012-2013:
Simon Hipkin is ready to deck his H09L. At the same time, he has completed building the prototype BlueMotion-550 - a 5.5m high performance dayboat, which was exhibited at the RYA Dinghy Show in March.
Summer 2013:
Jasper Barnham and Graham Sexton will be sailing WICKED at several Silver Tiller events this year. Jasper and Graham are current Laser 2000 national champions and came 3rd in the 2012 Endeavour Trophy, but they have not sailed Merlin Rockets before. They have already made their mark in the first three ST events of 2013. A new suit of HD sails will further boost their performance! After 8 events, they are lying 3rd over all in the Silver Tiller series
Simon Hipkin launched his H09L MR3750 "No Pasaran!" at Salcombe in July. His first Salcombe Week, in a brand new boat, proved a baptism of fire! "No Pasaran!" is the first all-wood MR launched since WICKED in 2009.
Jasper and Graham finished 5th in the 2013 Merlin Rocket Inland Championships,sailed at Grafham Water. This is the first Championship podium result for one of my MR designs since Mike and Mandy Fowler sailed their Rowsell-built Hexagon 'Imagine' into 4th place at the 1975 Inlands.
See photos of the building of WICKED and other HAZARDOUS Merlin Rockets, below. - click on the picture to see a larger version.
More photos are available on my Flickr website.