OUTSTANDING PERFORMANCE from a boat you can sleep on in comfort!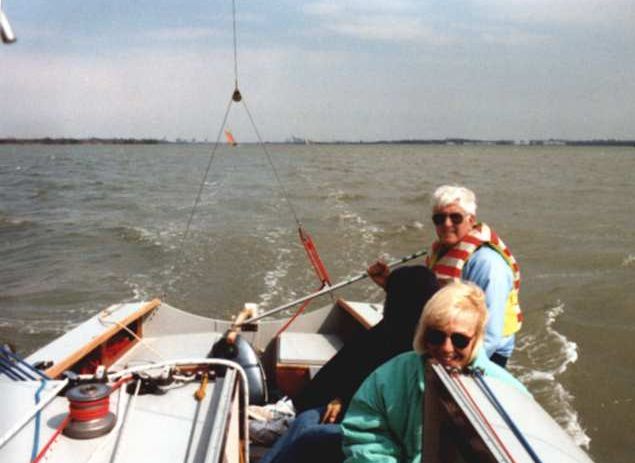 Blue Lightning reaches down the River Stour at 8 knots. Her lack of wake demonstrates how cleanly she goes through the water.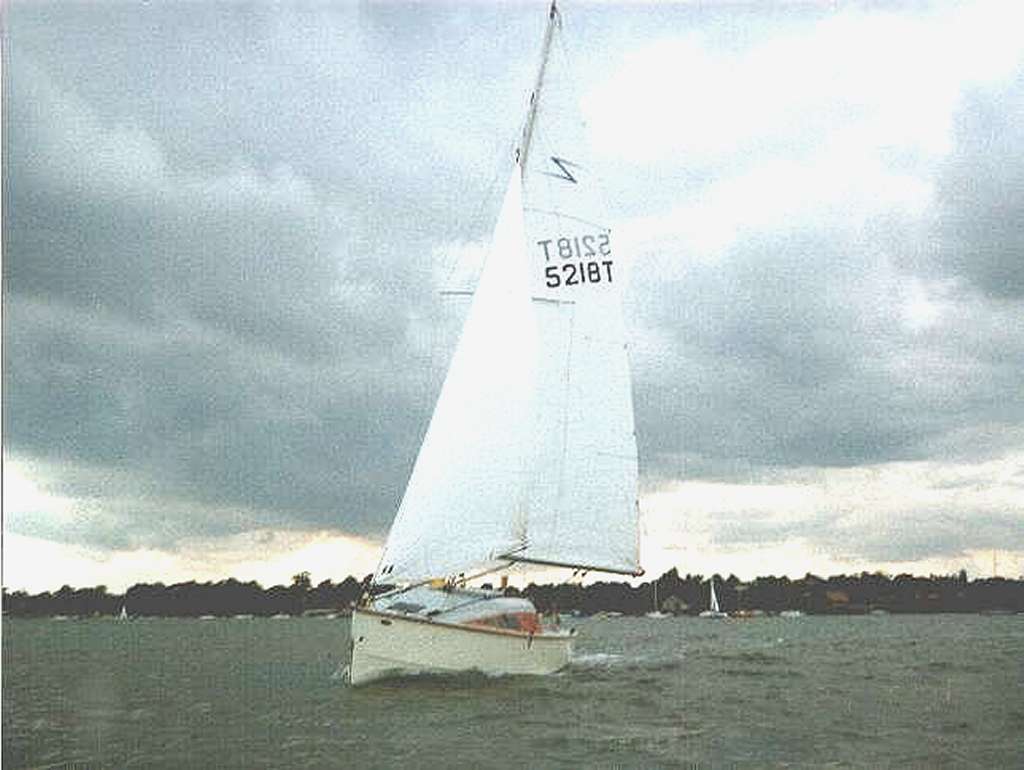 BLUE LIGHTNING was designed as a fast yet easily sailed coastal cruiser.
She is rigged for single handed sailing, with a self tacking, reefing foresail, and slab reefing on the mainsail.
The foresail incorporates a jib boom which enables a wide sheeting angle when off the wind.The foresail automatically goosewings when running before the wind. Foresail twist is perfectly controlled by use of a kicking strap on the jib boom.There is just a single jib sheet.
Tacking is simply a matter of putting the helm down - no other action is required. This system has been perfected after several years of experimentation on my earlier boat - LIVELY
This makes for effortless tacking when navigating rivers -especially when short tacking inshore to keep out of the tide.
All control lines are led to the aft face of the coachroof. These are:
Foresail furling line.
Foresail clew outhaul.
Foresail boom kicking strap.
Main kicking strap. (Z Spars rigid vang) (on swivel jammer)
Jibsheet. (on swivel jammer).
Centreboard hoist (with cam cleat).
There are 3 clutches for the halyards, and a Lewmar No.6 winch. The winch is used for halyards and raising the centreboard.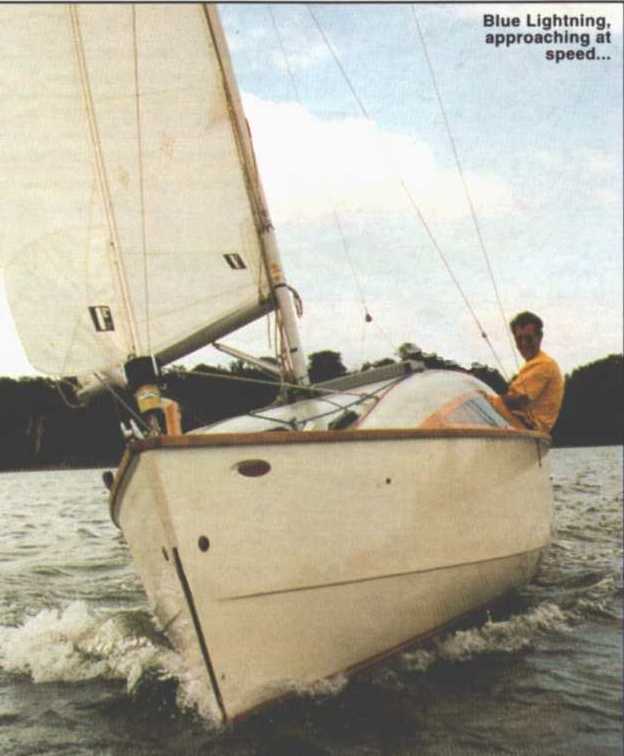 As you might expect with a lightly ballasted centreboarder, BLUE LIGHTNING's stability characteristics are not like that of a Contessa 32. Nonetheless, she is self righting until her mast is below the water, even with 2 crew perched on the gunwhale, where they would exercise a negative effect on righting moment. The stability curve is shown below. The centreboard is assumed to be locked fully down.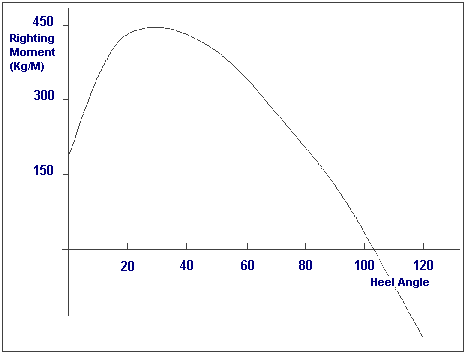 Uffa Fox was well known for saying,'The only place that weight ever did any good was in a steamroller',and certainly at moderate angles of heel a ballast keel is just dead weight, adding little to the stability of the boat.
Because she is so light (her CHS empty weight is 705kg and her displacement/length ratio (DLR) is 104) she FLIES off the wind. She is a true planing cruiser, needing just a force 4 breeze on a reach to take off. At any speed she remains beautifully balanced and light on the helm.
I tend to emphasise the offwind performance in my description of Blue Lightning, because it is here that speed differentials with other boats are most marked. Even Blue LightningL cannot plane to windward, so she is limited to her maximum displacement speed upwind. This maximum is the same for any boat of her waterline length, ie 1.4 x the square root of the waterline (in feet) = approx. 6.4 knots. (Handicapping systems weight waterline length very heavily for this reason).
A boat as light and "hydrodynamic" as Blue Lightning will approach this max readily in smooth water in a force 3, or in conditions where you can keep her heeling to less than 15-20 degrees. In these conditions I can generally outpace 30-35 footers to windward.
Another big advantage she has to windward is that tacking is just a matter of putting the helm down - thanks to her self tacking jib. Tactically, too, this is a big advantage, especially in restricted waters racing (eg river, or "round the cans"). BL will gain 10 yards per tack against opposition with genoas. Genoas are inefficient use of sail area, they are awful to tack, require sheet winches, useless on a run, and are just not needed. BL's sail area is 220 sq ft, efficiently distributed 30:70 between foresail and mainsail (like a dinghy). This is ample sail area for upwind sailing and close reaching. A non overlapping jib allows BL to point very high in light to moderate winds, as the sheeting angle is much narrower than possible with a genoa. Genoas only appeared because the old rating rules were kind to them. They are now just a 20th century anachronism.
In rough water you have to use dinghy techniques to maximise speed made good to windward, but you have the advantage over a dinghy in that you can easily reef instead of having to spill wind from the sails. Reef early is the maxim if you want max speed to windward. BL only has 150kg of ballast - she can't be fastest boat on every point of sailing in all weathers, but she will hold her own in heavy airs to windward if sailed well. 20 knots of wind will be no problem, but 30 knots will require double-reefed main and reefed (furled) jib, and 4 blokes on the high side.
BL is really a big dinghy - have no delusions about this. There are a lot of compromises, of course. For example, BL has a more balanced heeled hull form than a dinghy, because inevitably she will not be sailing so upright to windward.
Being a dinghy in concept means (among other things) that BL is light. This brings numerous advantages - "trailersailability", ease of handling afloat and ashore. No winches required for sail trimming, no excessive beef required to do anything on the boat - everything is light. She is a joy to sail, is highly manageable in all sailing conditions and genuinely has no vices whatsoever. I'm sure she will give her owner years of pleasure.

Towing Performance
Blue Lightning's all-up towing weight is 1130kg, and its draft with centreboard raised is 22cm.This makes it a genuinely towable and launchable trailer-sailer.

Many so-called trailer-sailers of similar or smaller size will have a similar towing weight quoted in their sales literature, but the weight does not include the trailer! Their problems are generally twofold: they carry around too much ballast, and this is often external, necessitating several feet of water to launch in. I was amused to see the picture on the front of the book 'Trailer Sailing' by JC Winters (Adlard Coles, 1994). It showed a Volvo backing a Beneteau First 210 down a slipway on its trailer. If you line up the waterline of the boat with the back of the car, it is immediately apparent that the car would be completely immersed before the boat floated off its trailer. And I'm sure that the 210 on its trailer exceeds the Volvo's safe towing weight limit. E-mail me with your comments if I'm wrong!
Here is a breakdown of Blue Lightning's weight:
Blue Lightning's Weights
Item
Weight
Kg
Boat weight (empty)
705
Fuel, water, food
25
Cruising gear
45
Trailer
355
TOTAL
1130
Not included above are the outboard motor (21kg), anchor/chain (16kg) and personal clothing etc, which are stowed in the car boot when towing.
My car was a Citroen Xantia 1.9 Turbo Diesel - an excellent tow car with its self-levelling suspension and gutsy engine. Its recommended max. towing weight is 1500kg, so I had plenty to spare, and the car coped admirably. The rig is actually light enough to tow behind a VW Golf or similar size car.
BLUE LIGHTNING Photo Gallery
BLUE LIGHTNING Isometric Drawings etc
BLUE LIGHTNING Video Clip - FAST SAILING
(Windows Media Player required - there will be a pause of about 90 seconds before the video plays).
© This site is the copyright of Keith Callaghan. Page last updated on 31 October 2006 .